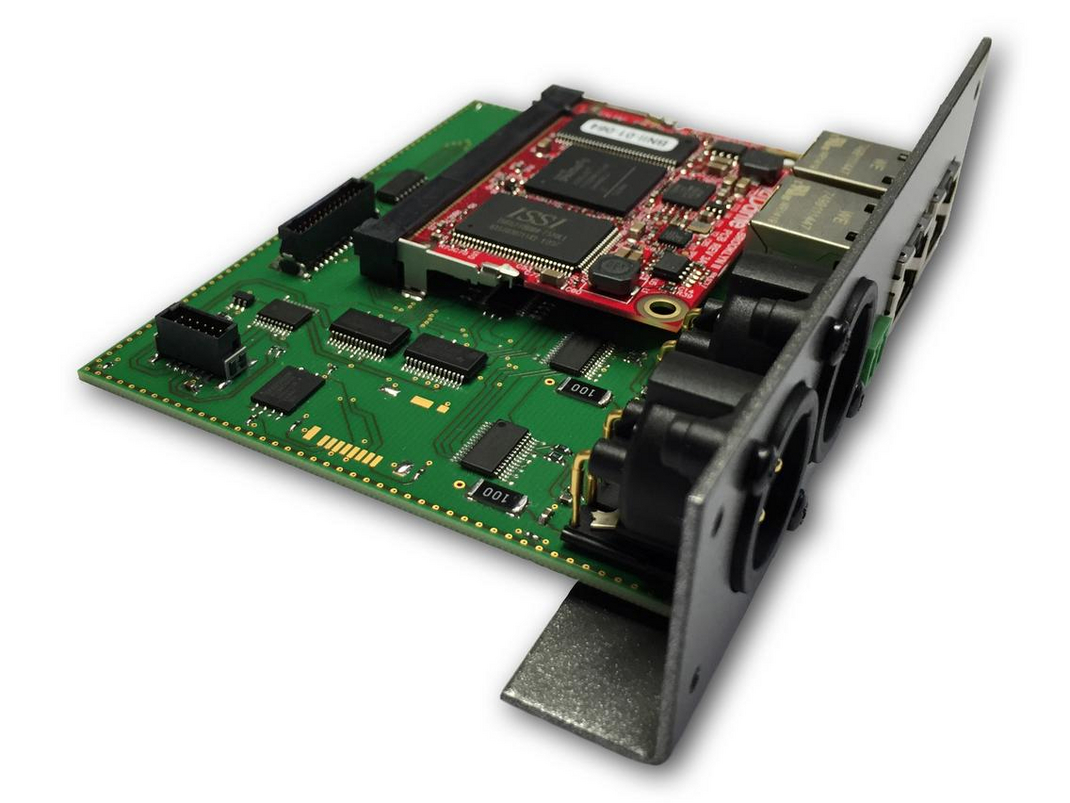 The DANTE protocol of the Australian company Audinate has established itself in recent years as a reliable and easy-to-use audio-over-Ethernet solution both in the installation area and for complex sound reinforcement tasks.
With the DANTE module, which is used in the extension slot of the DA428 or DA230, K.M.E. equips its own digital amplifiers DA 428 and DA 230 for integration into modern audio networks.
To connect to the DANTE network, two Gigabit Ethernet ports are available, which can be configured for both redundant or switched operation (for daisy-chain network topology).
The DANTE module can receive up to eight digital audio channels from the network. Of these, four channels are available on the power amp (for internal use as well as routing to link outputs), another four channels are provided directly to the outside via two XLR sockets (on the module) in AES / EBU format. This allows the use of a single module for multiple amplifiers. The potential-free NC signal contact is also available for loop monitoring, especially in fixed installations.
The routing of the audio signals in the DANTE network is done either with the DANTE Controller software, via KME Remote Control in the web browser or directly via the power amp menu.
In addition to receiving DANTE audio signals, the module also provides full functionality of the alternatively available TCP/IP network module. This means that virtually all device and not locked preset parameters can be (remotely) controlled and monitored.
optional module for connecting DA230 and DA428 power amplifiers to Dante audio networks
receive up to 8 audio streams (1-4 for internal use, 5-8 via two additional AES / EBU XLR outputs on the module)
use of single Dante module to drive multiple power amplifiers
routing of the streams in the audio network is done via Dante Controller software
control and user-friendly creation of presets via web browser
In use / reference projects
This product is used in these reference projects: