Simulation
EASE Focus 3 is a 3D simulation software for the configuration and design of K.M.E. line array systems and subwoofer arrays from the Galo and Pano series. The software includes a loudspeaker library and is freely available for K.M.E. users and can be downloaded in the download area.
In EASE Focus 3 every available loudspeaker is stored with a system definition. This includes mechanical, electronic and acoustic properties of the respective loudspeaker system. All available K.M.E. system definitions can be downloaded in our download area.
Where To Buy
add to quote request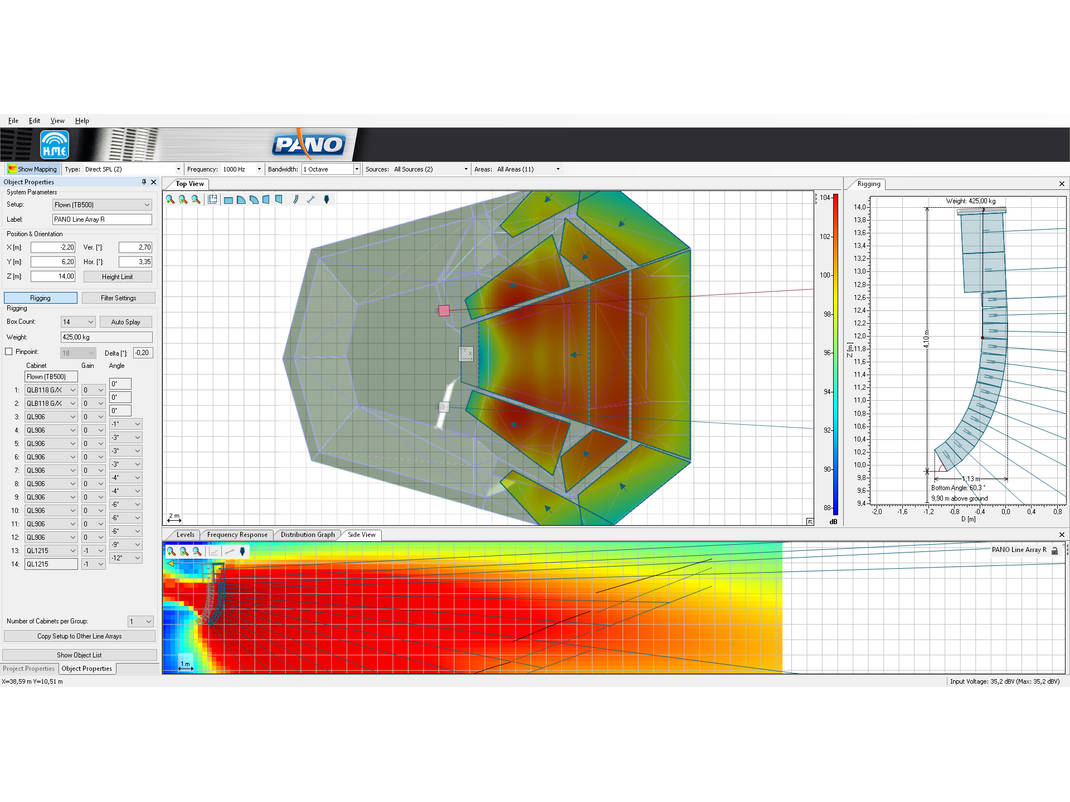 3D simulation of direct sound, displayed in horizontal and vertical planes
full support of EASE GLL data and data exchange with EASE
simulation of line arrays, conventional point sources and subwoofer arrays
Flexible definition of audience areas, sectional levels and receiver positions for detailed evaluation
immediate calculation of sound coverage and frequency response of the systems
several line array systems possible in one project
virtual equalizers for the tuning of line arrays in a single project
full frequency band from 20 Hz to 20 kHz
high accuracy through high internal data resolution and GLL file format
support for multiple languages (German, English, Spanish, Italian, Portuguese)
With EASE Focus 3, technicians, engineers and system designers can simulate the performance of complete sound reinforcement systems to determine the optimal setup. This is of particular interest for venues with multiple audience areas, possibly in a geometrically unusual arrangement or with ascending rows of seats. EASE Focus 3 supports the user with a number of helpful functions such as Auto-Splay for line arrays, Virtual EQ for tuning the systems, and comprehensive evaluation options for sound level and frequency response.
K.M.E. system definitions:
Galo G 10
Galo GB 218
Pano QL 906/1215
Pano QLB 118 G/X