Donau-Lauchert-Halle Sigmaringendorf (Germany)
Renewal of lighting and sound technology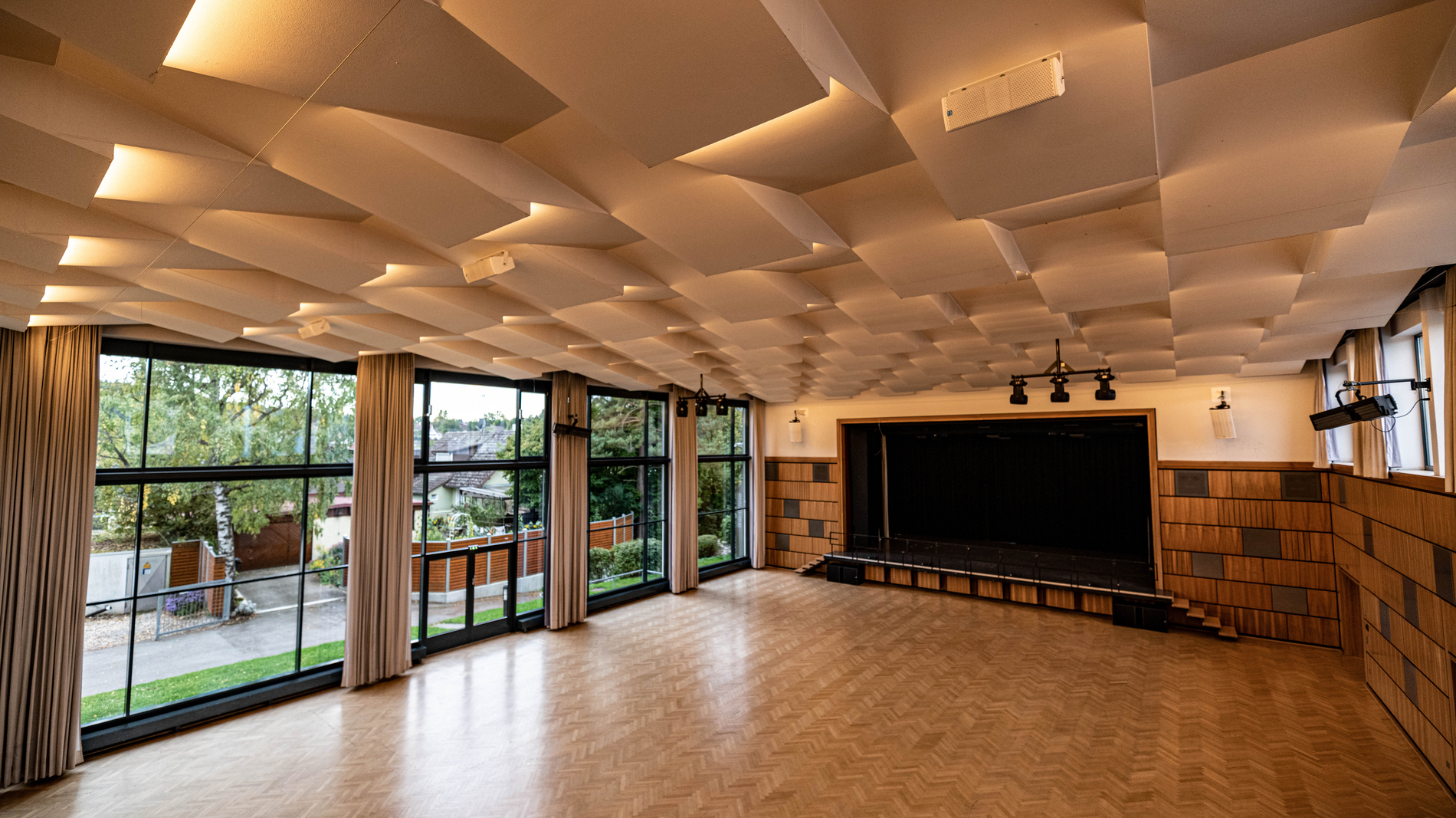 The central approach for this project is the use of the high suspended, horn-loaded tops with a high-frequency waveguide Pano QH 5045 V2 with which the entire hall can be covered effortlessly up to the last row under the gallery. Due to the precise beam angle, reflections on the side wall and the glass front can be prevented. The zones not reached by the tops in front of the stage are effectively filled with four discreet frontfills VersioX VLX 2 on the edge of the stage. Three suspended Fisco ICS 5 are installed as delayline for the gallery. With two high-performance Versio VB 218 subwoofers underneath the stage, the sound system is now well suited for powerful music reproduction. All system parameters are stored in the digital system output stages DA 230 with 2x 1500 W each and DA 428 with 4x 700 W each.
Two VersioX VLX 12 are suspended from the side for monitoring on stage, and two mobile MCX 12 can be flexibly connected as required.
In the foyer, Fisco ICS 5 was also installed upright as a front- and delayline, which are characterized by a very homogeneous dispersion and a very discreet design and the white finish.
At the first events in September 2019, visitors were impressed by the improvement in sound quality achieved throughout the room.
"K.M.E. offers acoustically and visually suitable PA solutions with sophisticated accessories for all installation situations," says Markus Zimmermann, one of the managing directors of bildundtonstudio GbR, summarizing the long-standing, successful collaboration with K.M.E..
Bildundtonstudio GbR on Facebook